The Central Pennsylvania Interscholastic Hockey League's postseason culminates with a pair of championship games scheduled for Friday night at Hersheypark Arena.
Both games feature a team that skated for a title last year.
Following is a look at the matchups.
Bears Division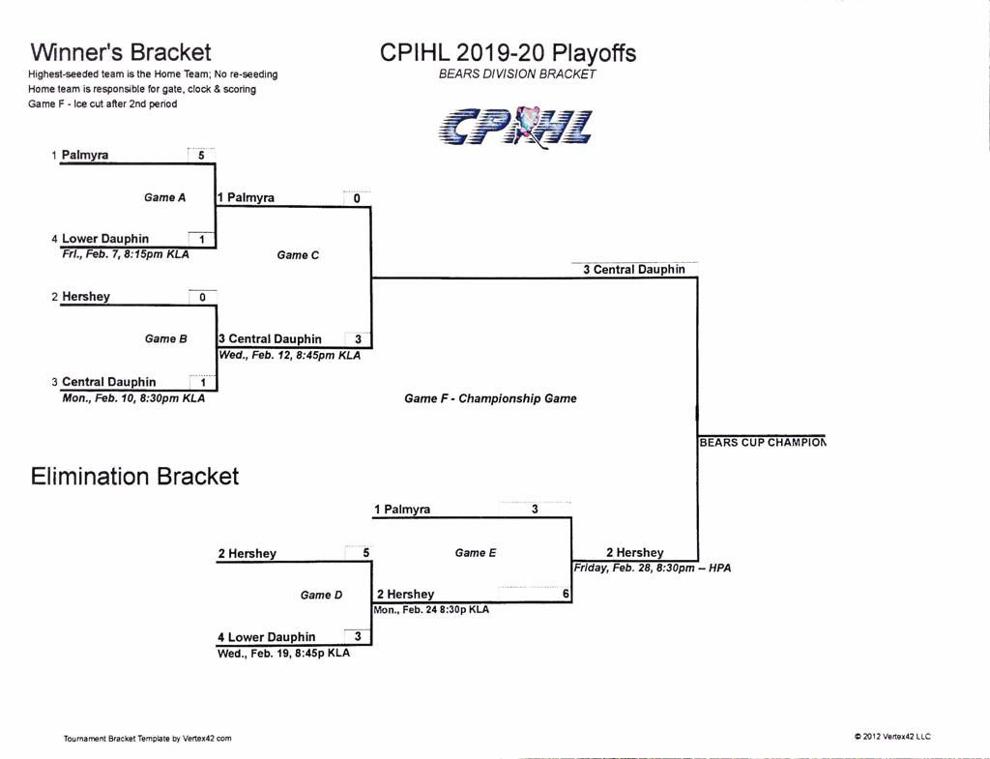 No. 2 Hershey (15-3-1-2) vs. No. 3 Central Dauphin (15-4-1-0)
Puck drop: 8:30 p.m.
On the line: The Bears Cup
How they got there: Hershey dropped its playoff opener to Central Dauphin 1-0 Feb. 10 and bounced back through the elimination bracket with a 5-3 win over Lower Dauphin Feb. 19 and a 6-3 decision over Palmyra Monday.
Championship history: Hershey has won the CPIHL's Tier 1 title in 16 of the league's first 25 years, including the last two. The Trojans advanced to seven of the last eight Bears Cup championship games, winning five of them. Central Dauphin captured its only CPIHL title in 2002 when it conquered Tier 2. The Rams have appeared in six championship games, the last one in 2015 in a Viola Cup championship-game loss to Cedar Crest.
Head-to-head: Before their meeting in the playoff opener, the teams split a pair of regular-season games. Hershey won a 5-4 contest Nov. 6 while Central Dauphin earned a 3-2 victory Jan. 3. They also tied 2-2 Dec. 2.
Players to watch: Hershey's Jason Rippon led the Trojans with four goals over three playoff games. He scored three goals in two regular-season games against the Rams. Central Dauphin's Colin Nemshick scored the lone goal in the playoff game against Hershey.
Goalies: Hershey's Christopher Larkin backstopped his team to a 2.33 postseason goals-against average and a .915 save percentage. Central Dauphin's Evan Petras stopped all 58 shots he faced so far in the postseason.
Notable: Including the regular season, Central Dauphin has shut out its opponents over the last eight periods for a total time of 106 minutes, 37 seconds. The last time a Bears Cup championship game ended in a shutout was Palmyra's 3-0 win over Hershey in 2016 ... Hershey defeated Central Dauphin 2-1 in the elimination bracket last year to advance to the Bears Cup title game ... The last two Bears Cup championship games have gone to overtime. Hershey won both ... Rippon is one of three finalists for the CPIHL's Justin Yingling Memorial Award granted annually to a CPIHL senior. Manheim Township's Jared Gordon and Trinity's Michael Soule are the other two finalists ... Central Dauphin's penalty killing unit has kept opponents' power plays scoreless in six opportunities. Hershey successfully killed off six of eight penalties during the playoffs.
Viola Division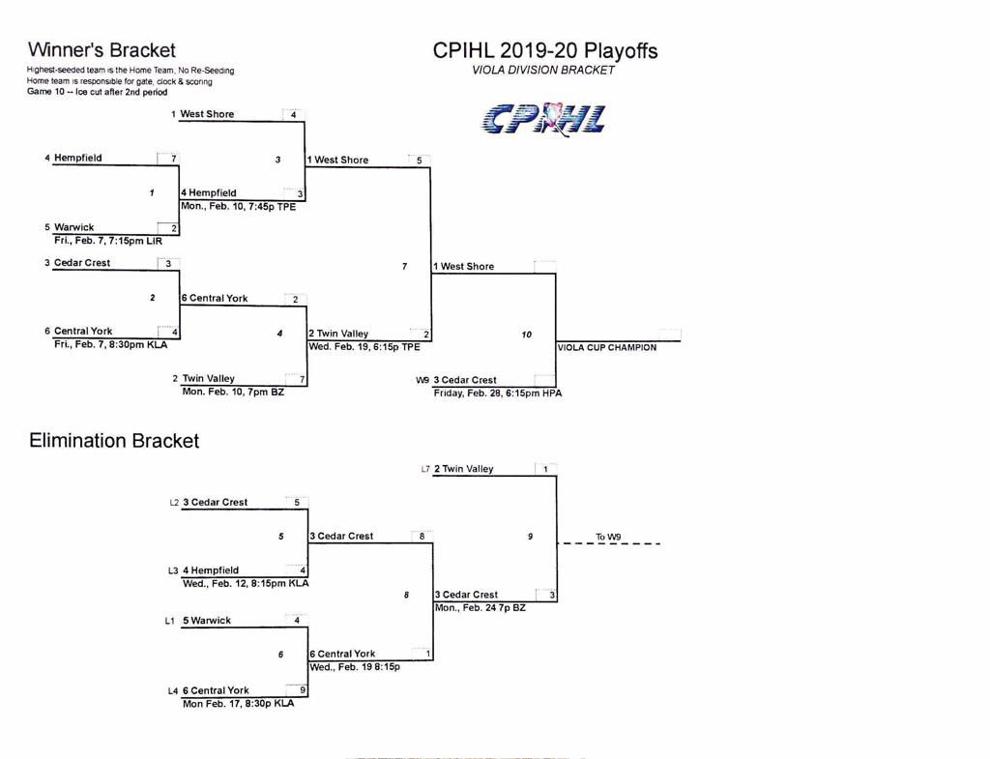 No. 1 West Shore (17-3-0-0) vs. No. 3 Cedar Crest (17-5-0-0)
Puck drop: 6:15 p.m.
On the line: The Viola Cup
How they got there: Top-seeded West Shore, with players from Cedar Cliff and Red Land, went 2-0 in the early rounds of the playoffs, defeating Hempfield 4-3 in overtime Feb. 10 and Twin Valley 5-2 Feb. 19. Meanwhile, the Falcons, with players from Cedar Crest, Lebanon, Lebanon Catholic and Elco, dropped its playoff opener to Central York, 4-3 in a shootout Feb. 7 before rattling off three straight wins against Hempfield (5-4 in overtime Feb. 12), Central York (8-1 Feb. 19) and Twin Valley (3-1 Monday).
Championship history: West Shore returns to the Viola Cup championship-game for the second straight year. It dropped a 5-3 decision to Warwick in last year's final. Players from Cedar Cliff and Red Land have played in championship games as members of other co-op clubs before their current club's founding three years ago. Cedar Crest lifted trophies at the end of its two title-game appearances, winning the Viola Cup in 2015 and claiming the Rothrock Cup in 2018.
Head-to-head: The two teams split a pair of regular-season decisions. West Shore won 6-1 Nov. 18. The Falcons answered with a 4-3 victory Jan. 20.
Players to watch: West Shore's Connor Winski scored two goals in the regular-season win over Cedar Crest. Winski also collected five points — four goals and one assist — in two playoff games. Elco's Todd Griffiths led the Falcons in playoff scoring through four games with five goals and two assists.
Goalies: West Shore's Alex Rigling started both playoff games between the pipes, posting a 2.41 goals-against average and a .891 save percentage. Lebanon Catholic's Nolan Harner registered a 2.15 postseason goals-against average and a .905 save percentage for the Falcons.
Notable: West Shore surrendered the first goal in both of its postseason games. Cedar Crest scored the first goal in all three of its playoff wins and allowed the first goal in its loss to Central York ... Shore has outshot its opponents 86-46 during the playoffs and outshot them in each of the seven periods of play ... The Falcons' power play netted one goal in 12 postseason opportunities while West Shore's power play scored twice on seven opportunities ... Including the regular season, West Shore has won four straight games and eight of its last nine. The only loss during that stretch was the setback to Cedar Crest, which has won six of its last seven games ... Both of West Shore's playoff games have gone into the second period with a 0-0 score ... The Falcons have outscored their opponents by a total of 9-1 in the third period during the playoffs.